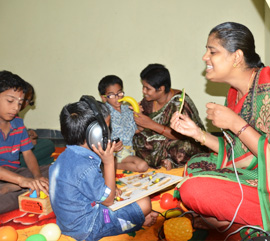 Inclusive Education for CWSN has been one of the major interventions of the erstwhile Sarva Shiksha Abhiyan(SSA) RTE and RMSA schemes. From the year 2018-19, Samagra Shiksha lays emphasis on improving quality of education for all students, including CWSN. Thus, this intervention is an essential component under Samagra Shiksha. The component provides support for various student oriented activities which include identification and assessment of CWSN, provision of aids, appliances, corrective surgeries, Braille books, large print books and uniforms, therapeutic services, development of teaching-learning material (TLM), assistive devices & equipments, environment building and orientation programme to create positive attitude and awareness about nature and needs of CWSN, purchase/development of instructional materials, in-service training of special educators and general teachers on curriculum adaptation, stipend for girls with special needs etc. The component also emphasizes the implementation of the Right to Free and Compulsory Education (RTE) Act, 2009 for children with special needs (within the age group of 6-14 years). In addition, separate resource support (financial assistance towards salary of special educators) is also made available in order to appropriately address the needs of CWSN within the school.
Inclusive Education Programmes
The Department of School Education & Literacy, MHRD was previously implementing Sarva Shiksha Abhiyan (SSA-RTE) as the main programme for universalizing elementary education for all children from 6-14 years of age. SSA had adopted a more expansive and a broad-based understanding of the concept of inclusion, wherein a multi-option model of educating CWSN was being implemented.
The Right to Free and Compulsory Education (RTE) Act, 2009 mandates free and compulsory elementary education to all children including CWSN. This act provides a legal framework that entitles all children between the ages of 6-14 years free and compulsory admission, attendance and completion of elementary education. Section 3 (2) of the RTE Act lays impetus on the elementary education of children with disabilities. As per the Amendment of 2012, it also mandates that, a child with multiple and/or severe disabilities has the right to opt for home based education.
In order to address the educational needs of CWSN at the secondary and senior secondary level, the scheme for Inclusive Education for Disabled at Secondary Stage (IEDSS) was, implemented. The Scheme aimed at enabling all students with disabilities completing eight years of elementary schooling, an opportunity to complete four years of secondary schooling in an inclusive and enabling environment in the general education system at the secondary level (classes IX to XII).
Presently, Samagra Shiksha aims to cover all children with special needs (CWSN) in a continuum from classes I to XII. Under Samagra Shiksha, in the year 2018-19, an outlay of Rs. 1023.50 crore has been approved for the education of 21,00,918 CWSN (from classes I to XII) including financial support (for the honorarium/salary) of 15,909 Resource Teachers/Special Educators for the year 2018-19. Also, financial assistance of Rs. 300 crore towards salary of 11865 resource persons/resource teachers (for CWSN) working at BRC/CRC/URC levels, has been approved. Therefore, the total number of special educators and resource teachers/persons available to address the specific needs of children with special needs is 27,774.
The objectives of the component are :
Identification of children with disabilities at the school level and assessment of her/his educational needs.
Provision of aids and appliances, assistive devices, to the children with special needs as per requirement.
Removal of architectural barriers in schools so that CWSN have access to classrooms, laboratories, libraries, play/recreational area and toilets in the school.
Supplying appropriate teaching learning materials, medical facilities, vocational training support, guidance and counseling services and therapeutic services to children with special needs as per his/her requirement in convergence with line departments.
General school teachers will be sensitized and trained to teach and involve children with special needs in the general classroom.
For existing special educators, capacity building programs will be undertaken.
CwSN will have access to support services through special educators, establishment of resource rooms, vocational education, therapeutic services and counseling etc.
Provisions for CWSN included under Samagra Shiksha
Support has been enhanced from Rs. 3000/- per child per annum to Rs. 3500/- per child per annum.
Stipend for girls with special needs has been expanded from the previous allocation to girls from classes IX to XII (RMSA), to classes I to XII (Samagra Shiksha) in order to encourage girls for enrolment & retention and complete their schooling. Stipend is provided through Direct Benefit Transfer.
The provision for home based education covering children with severe/multiple disabilities has been extended for children till class XII under the Samagra Shiksha scheme. In the year 2018-19, the provision for home based education covered 43,996 children with severe/multiple disabilities with an outlay of Rs. 9.22 crore.
Allocation for resource support through special educators has been made separately in order to appropriately address the learning needs of CWSN from elementary to senior secondary level.
The financial support for honorarium/salary for existing and new special educators (as per the Samagra Shiksha norms for salary of teachers). This allocation is over and above the norm of Rs. 3500/- towards student oriented component.
From perspective of Convergence
The appropriate Government and the local authorities such as Ministry of Social Justice and Empowerment, Department of Empowerment of Persons with Disability, Public Works Department (PWD), CPWD, Ministry of Rural Development, Ministry of Skill Development, Ministry of Sports and Youth and Sports Development, Ministry of Health and Family Welfare, Ministry of Women and Child Development, National Commission of Protection of Child Rights (NCPCR) etc. shall endeavor that all educational institution funded or recognized by them provide inclusive education to the children with disabilities and towards that end shall
Admit them without discrimination and provide education and opportunities for sports and recreation activities equally with others
Make building, campus and various facilities accessible
Provide reasonable accommodation according to the individual's requirements
Provide necessary support individualized or otherwise in environments that maximize academic and social development consistent with the goal of full inclusion
Ensure that the education to persons who are blind or deaf or both is imparted in the most appropriate languages and modes and means of communication
Detect specific learning disabilities in children at the earliest and take suitable pedagogical and other measures to overcome them.
Monitor participation, progress in terms of attainment levels and completion of education in respect of every student with disability
Provide transportation facilities to the children with disabilities and also the attendant of the children with disabilities having high support needs.
Innovative Material developed by NCERT
Promoting Inclusive Education in the Foundational Years - Barkha: A Reading Series for 'All'
The department has developed Barkha: A Reading Series for 'All' as an exemplary, inclusive learning material in the form of a supplementary early reading series. This reading series is available in print and digital formats. Its design is based on the principles of inclusion and the concept of Universal Design for Learning (UDL). Barkha: A Reading Series for 'All' is exemplary in demonstrating how the principles of UDL can guide the design of inclusive features like tactile and high resolution visuals, text in accessible scripts etc. This exemplar provides a direction and initial guidelines for developing similarly accessible material in the form of textbooks and other learning resources for all school stages.
In tandem with the Digital India Campaign, the department has also developed a digital version of Barkha: A Reading Series for 'All'. This digital version retains all the inclusive features of the print version and is unique in its functionality because it allows for greater flexibility and has greater scope of appealing to all. Children can access all 40 story booklets through a single device. This also gives them space to revisit any book whenever and wherever they like. The privacy that is afforded by being able to read on one's own computer or tablet allows one to read comfortably and at one's own pace therefore promoting reading in a non-threatening environment with meaning and pleasure. An introduction to each story is available in audio-video format both in sign and regular language forms. It helps to introduce sign language as a regular form of communication at an early age to all children in an inclusive setting. The digital version of this reading series is available on NCERT website and the epathshala portal.
Including Children with Autism in Primary Classrooms: Teacher's Handbook
The handbook has been developed for spreading awareness about Children with Autism (CwA) and covers the skills that will help the regular teachers to include CwA in mainstream classrooms. It focuses on the possible interventions and strategies that can be utilized in inclusive classrooms. The contents of the handbook are placed in harmony with the activities and schedule of the school so that the regular teacher may find it easy to use the handbook. The handbook is divided into three sections; Section one aims at building understanding about autism, section two provides curricular area and activity wise suggestions for inclusion of CwA and Section three elaborates on principles for enhancing a deeper understanding about CwA.