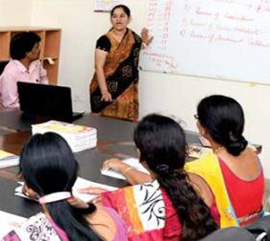 In-service teacher and teacher educators training have been an integral part of erstwhile Schemes of Sarva Shiksha Abhiyan (SSA), Rashtriya Madhyamik Shiksha Abhiyan (RMSA) and Centrally Sponsored Scheme on Teacher Education (CSSTE). As per the framework of Samagra Shiksha, various kind of trainings such as training for Principals/HMs (Refresher and Residential), Teachers (Refresher and Induction), Teacher Educators (Residential, Training of Master Trainers and Programme and Activities), Training of Educational Administrators (Residential) and Training for School Management and Development Committee (SMDC) Members are provided in different components. This kind of segmentation has adversely affected the efficacy of training. Therefore, an integrated approach by subsuming abovementioned trainings into a standardised comprehensive training package has been envisaged in order to ensure effectiveness of school eco-system and improvement in learning outcomes. This is first time when the Department through its academic bodies such as National Council of Educational Research and Training (NCERT) and National Institute of Educational Planning and Administration (NIEPA) is taking a lead role and will conduct face to face training for around 32000 Key Resource Persons (KRPs) across all the States and UTs.
Earlier in-service teacher trainings were conducted by the concerned States and UTs through State Councils of Educational Research and Training (SCERTs) or any other agency as selected by them. Even after providing teachers training for last so many years, the efficacy of the training and its impact on improvement of learning outcome remain a big question. Cascade method with multiple layers has resulted in high percentage of communication loss when it reached grass root level. Requests have been received from many States and UTs to provide support in this regard. Recently, NCERT conducted a pilot in Tripura and trained 31000 teachers directly through Key Resource Persons (KRPs) trained by NCERT. After successful implementation of integrated teacher training in Tripura, it has been decided to scale up this model at national level and implement in all States and UTs. NCERT and NIEPA have been identified to lead this training in a mission mode in defined time period.
The Integrated Teacher Training Programme would address concerns such as learner-centred pedagogy, learning outcomes, creating safe and secure environment in schools, role of community in improving school education, school based assessment, etc., which are required to reach the grass root level (i.e., to the teacher). For this, an integrated teacher training programme will be conducted in the months of June – November 2019 to directly train all 41 lakh teachers, school heads, BRCs and CRCs at the elementary level.
This training will prepare teachers for School Based Assessment to be conducted in December, 2019 in all the schools.
NCERT will formulate 8 National Resource Groups (NRGs) having 15 Resource Persons each, including experts from NIEPA. NRG from NCERT and NIEPA will include experts in different subject areas and generic issues.
NRGs will conduct face to face training for the Key Resource Persons (KRPs) identified at the State and UT level, which shall include faculty members of DIETs, SCERTs, IASEs, CTEs, Senior Secondary Schools, BRCs, etc.
Key Resource Persons will form a group called State Resource Group (SRGs), which will have 6 Resource Persons (5 KRPs + 1 School head trained under School leadership Programme of NIEPA). These SRGs will directly conduct training for teachers, Head Teachers/Head Masters, BRCCs and CRCCs at block level. One SRG will train about 125-150 participants at a time.
A Learning Management System (LMS) Portal and a Mobile App will be developed by NCERT for registration of Resource Persons and Teachers, dissemination of resources, training gap analysis, monitoring, mentoring and measuring the progress online. Guidelines for the training of KRPs, SRPs and Teachers will be prepared along with the modules and shared with the States and UTs.
This training envisages to achieve both tangible and intangible benefits in terms of 100% coverage of elementary stage teachers, Head Masters/Head Teachers, Principals, faculty of SCERT and DIETs, Block Resource Centre Coordinator (BRCC), Cluster Resource Centre Coordinator (CRCC), who are trained through an integrated teacher training package. This will be helpful in making classrooms learner-friendly and improving children's competencies including critical thinking, problem solving, creativity, as well as social–personal qualities such as cooperation, team work etc.