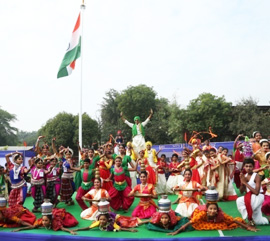 For the promotion of experiential learning and joyful learning, various activities are organized for both students and teachers. Some of the major activities under taken are Kala Utsav; Role Play Competition; Band Competition; Music Teacher Competition and Folk dance competition.
Rangotsav is an initiative designed to cultivate awareness of cultural diversity among the young learners of the nation. The program had collection of cultural activities/events under it and schools all over the country participated in it while organizing it enthusiastically so that each and every child gets to experience the vibrant beauty of different cultures.
The main objectives of Rangotsav are:
Transform the school environment into a vibrant and a joyful place of learning through various activities of art and culture and to provide a suitable platform to celebrate the artistic talent and creativity of every member of the school community, including students, teachers and other staff members.
Showcase and celebrate the rich cultural heritage of India with all its diversity and provide age appropriate exposure to all children thus enabling them to understand and appreciate the variety of cultures, geographies, languages, food and customs of the country.
Promote the spirit of national integration through well-planned activities to achieve the goals of "Ek Bharat Shreshtha Bharat".
Regular practice of integrating arts (even after Rangotsav) in the day-to-day school routine, throughout the session to promote joyful learning environment in the schools