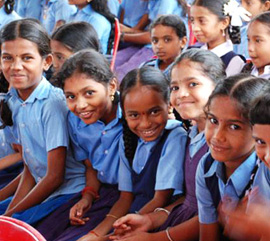 Children have right to live with dignity and have access to education in an environment that is safe protective and conducive to growth & development. School safety and security has to be seen from a broader perspective and not confined merely to infrastructural and physical safety. The issue of school safety has become more complex moving beyond corporal punishment to bullying physical violence sexual psychological and emotional violence, even leading to death in extreme cases.
A comprehensive guideline with accountability framework is being developed in consultation with various stakeholders including school managements, teachers, students, parents and counsellors for making schools safe and secure.
While in an ideal situation, counsellors could be provided in every school, however as this is not possible at present due to dearth of trained counsellors in the country, teachers can be sensitized to function as a first step counsellor within the school. Teachers will be given orientation on counselling, provisions of POCSO Act, JJ Act, School Safety guidelines, helpline and emergency numbers, drop-box for complaints etc. Also, every school is to display a board on safety with helpline and emergency numbers and contact persons.