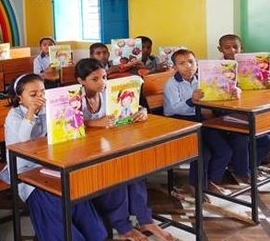 Preparations for NAS 2020 (Pre NAS 2020) interventions have been initiated to reach out to all the districts of different States and UTs. In this context, a School Based Assessment (SBA) is proposed to be conducted throughout the country to assess the Learning Outcomes of all the children at the Elementary level. The purpose of the SBA is to empower the teachers to improve the learning levels of the students.
A framework to improve the quality of learning through SBA in the schools is being prepared which would focus on bringing in its ambit school leaders, teachers and the whole network of officials at blocks, DIETs, SCERT and the Directorates of Education in different States ad UTs. The key features of the School Based Assessment are:
It is proposed to be a decentralised test where the preparation of the test papers will be done at District level for which training will be given by NCERT and administration of the test will be at the school level.
Non standardized assessment would be used to link to individual learning styles of each child. Emphasis will be on portfolio, self and peer assessment used in conjunction with teacher assessment. Assessment of personal social qualities along with cognitive competencies will be encouraged. A strong and relevant feedback mechanism will be inbuilt allowing the teacher to give immediate and constructive feedback to students.
SBA would have an online reporting system of both school and teacher level performance which can be monitored at the District, State and National level.
Guidelines, handbook, videos, e-books and e-learning materials will be developed for conduct of SBA and shared with the States and UTs.
SBA would involve in its framework 'a whole school approach' which involves the participation of the community in the learning process. Students' progress would be discussed with the parents and shared with the SMCs and suggestions would be sought.
In implementing the SBA, emphasis will be on on-site mentoring by the Cluster Resource Center Coordinator (CRCC). The CRCCs would nurture and support the teachers on a regular basis. Teachers would be encouraged to participate in quality circles within the clusters.
Sample checking by an external agency will be done to validate the data from the schools.