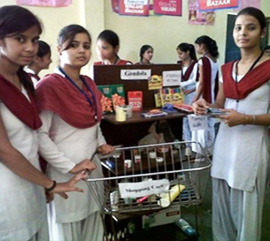 The Government is implementing the scheme of Vocationalisation of School Education under the umbrella of 'Samagra Shiksha - an integrated scheme for school education', a Centrally Sponsored Scheme. The scheme seeks to integrate vocational education with general academic education with an aim to prepare educated, employable and competitive human resources for various sectors of the economy and the global market. The scheme covers Government schools and Government-aided schools.
The scheme has a provision for providing exposure to vocational education to students of Classes VI to VIII with an aim to provide opportunities to the students to orient themselves with the skills required for the various occupations in a sector and to equip them to make informed choices while selecting their subjects in higher classes. NCERT has prepared draft guidelines for extending the scheme to the upper primary level.
Under Vocational Education component of 'Samagra Shiksha', NSQF compliant vocational courses are taught to the students from class 9th to 12th. At the secondary level, i.e. Class IX and X, vocational modules are offered to the students as an additional subject. At Sr. Secondary level, i.e. , vocational courses are offered as a compulsory (elective) subject. Vocational Courses are selected on the basis of notional hours, age & educational qualification prescribed and suitability for school students. Under the scheme, Vocational Courses based on the Job roles which have been approved by National Skill Qualification Committee (NSQC) are offered in the schools.
Pandit Sunderlal Sharma Central Institute of Vocational Education (PSSCIVE), a constituent unit of NCERT is the Nodal Agency for Curriculum/Course-ware Development. Curriculum and Course-ware are developed for NSQF Compliant Job roles in consultation with the Sector Skills Councils (SSCs), the representative bodies of industry.
Employability Skills module has been made a mandatory part of the vocational Courses. It consists of Communication Skills, Self-Management Skills, Information and Communication Technology Skills, Entrepreneurship Skills and Green Skills.
Under the program, there is a provision for arranging hands on training, field visits, on the job training for students in industrial set up and guest lectures from industry. Arrangements are also being made for providing apprenticeship training to the students passing out with vocational subjects. The Ministry of Skill Development and Entrepreneurship has been requested to arrange for apprenticeship of the students passing out with vocational subject.
The State Governments have been advised that Vocational courses are to be treated at par with other academic subjects and accorded a similar status in the scheme of subjects.
The State Boards conduct external competency based assessment of skills of the students in collaboration with the concerned Sector Skill Council wherein the practical assessment of vocational subject is being carried out by Sector Skill Council. The SSCs depute certified assessors to the states to carry out the assessment. A joint certificate by the school board and the concerned Sector Skill Council is issued to the successful candidates.
Till June 2022, 17761 schools have been approved under the scheme out of which the scheme has so far been implemented in 13161 schools with more than 18 lakh enrollment. State wise list of schools may be seen at Annexure-II.
At present, the scheme covers 88 job roles in 22 sectors, i.e. Aerospace and Aviation, Agriculture, Apparel Made ups & Home Furnishing, Automotive, Banking Finance and Insurance Services (BFSI), Beauty and Wellness, Construction, Electronics & Hardware, Handicrafts and Carpets, Healthcare, Information Technology / Information Technology Enabled Services (IT/ITeS), Management & Entrepreneurship, Media & Entertainment, Food Industry, Physical Education & Sports, Plumber, Power, Retail, Security, Telecom, Tourism & Hospitality, Transportation Logistics & Warehousing.
New Education Policy (NEP), 2020 has put great emphasis on skill development and Vocational Education from young age in schools. In order to fulfill various objectives of NEP, the existing scheme of Samagra Shiksha has been revamped and various new interventions relating to Vocational Education have been incorporated, some of them are as follows:
Coverage has been expanded to cover Government aided schools.
The provision for Hub and Spoke Model has been made, under which the infrastructure available in the Hub schools will be utilized by the students of nearby schools (spoke schools) for vocational training.
Exposure of pre-vocational education at Upper Primary level, internships, bagless days etc. has been included. The pre-vocational education programme will mainly focus on activity-based teaching-learning. It will not only reduce the boundaries between the bookish knowledge and practical knowledge but will also expose children to the skill requirements in the work areas, thus helping them to decide the future career path.
For providing hands-on experience of a sampling of important vocational crafts, such as carpentry, electric work, metal work, gardening, pottery making, etc., a provision of a fun course for the students of class VI to VIII has been made.
Provision for class VI to VIII students to intern with local vocational experts such as carpenters, gardeners, potters, artists, etc. has been introduced.